Europatex is a company of Agent/Consultant, specialized in import/export and production follow-up, dealing fabrics for men's and women's clothing (both outer- and under-wear), for furnishing, for household, hotel, hospital and laundry linens, as well as technical fabrics for clothing and industrial, and fabrics for workwear.
The very good skills of Europatex are competence and professionality reached during decades of presence in the textile market, always representing the most important Italian, European and extra-European textile companies.
Since the Company foundation by Prof. Davide Nacmias in the 70s, the philosophy was always engaging to find the right source in order to better satisfy the clients' requirements, creating and developping together with the clients the articles, that better suited to their needs, reinforcing in this way the relationship between client and producer.
This philosophy was transmitted during the years also to the actual company-owner, Mr. Luigi Lazzaro, who since the early 80s, has been collaborating with Prof. Nacmias and than continued his activity as textile agent.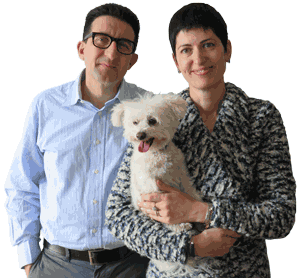 In 2000 Mr. Lazzaro's wife, Arianna Nacmias Bertasa, started working in the company as well, pursuing her own project of textile-consultant for "made in Italy" household linens. Thanks to her 20-plus years experience in the field of top level quality home textiles and to her knowledges and very good relations with the best Italian producers of home textiles, she is able to follow-up every production-stage, assuring to the client the best "made in Italy" turnkey service.